岸田繁
Shigeru Kishida

1976.4.27 –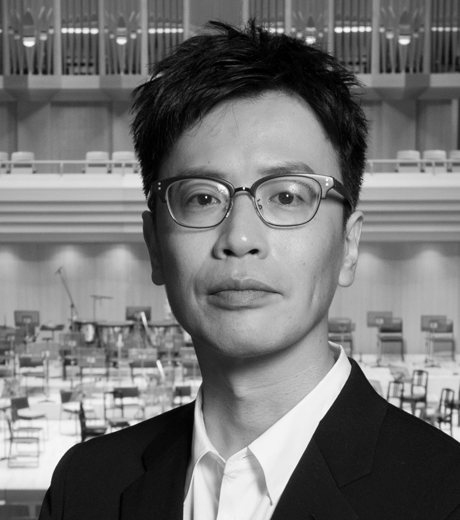 1976年京都府生まれ。1996年にロックバンドくるりを結成。ボーカル、ギター。作詞作曲の多くを手掛け、多彩な音楽性で数々の名曲をコンスタントに発表。映画のサントラ制作、CMやアーティストへの楽曲提供も行う。
くるりは、ロックをベースに、エレクトロニカ、ハウス、クラシックなど、多様なスタイルを取り入れた楽曲で20年に及ぶ活動を続けており、これまでに10を超えるアルバムを発表、国内主要チャートに幾度となくランクインしている。フジロックフェスティバルやサマーソニックといった日本の主要なフェスティバルのほか、北米をツアー、アジア諸国にて公演を行う。
岸田は幼少より京都市交響楽団の演奏会に足を運ぶなど、クラシック音楽に親しむ。2007年、「くるり」7枚目のアルバム『ワルツを踊れ』レコーディングのためにウィーンに滞在。これを機にクラシック音楽作曲への興味が更に高まり、以降「くるり」の作品や自身が手がける楽曲などに管弦楽を取り入れるなど、ロックバンドの枠を越えた作曲活動を展開する。
京都市交響楽団からの依頼を受け、1年半をかけて本格的なオーケストラ作品「交響曲第一番」を作曲。2016年12月、ロームシアター京都において、広上淳一指揮、京都市交響楽団によって初演が行われた。この日のプログラムを全て収録したCDを発売中。2016年より京都精華大学で教鞭を執り、2018年より特任教授に就任。
http://www.quruli.net
http://www.shigerukishida.com
(2018年8月3日)
Shigeru Kishida - Biography
Shigeru Kishida was born in Kyoto in 1976 and formed the rock band Quruli in 1996. Since then, he has been active as the frontman of the band, writing much of their repertoire and demonstrating his versatile musicality as a songwriter. He has also composed soundtracks for movies, and written scores for TV commercials and for other pop musicians in Japan.
Quruli has been active for more than 20 years and releases songs in the tradition of rock music. At the same time, their music has encompassed many different styles, such as electronica, house, and classical music. Quruli has released more than 10 albums, and their songs and albums have frequently entered the major domestic pop music charts. The group has also toured in North America and performed in Asian countries, in addition to performances at major music festivals in Japan including the Fuji Rock Festival and Summer Sonic.
Kishida has attended classical music concerts since his childhood, including those of the Kyoto Symphony Orchestra, and is well-acquainted with classical music. In 2007, he made the recording of "Tanz Walzer", Quruli's seventh album, in Vienna, Austria. This opportunity sparked an increasingly strong interest in classical music composition. Since then, Kishida's composition activities have extended beyond the framework of a rock band, and include applying an orchestral sound to the works of Quruli and to his own music.
After being commissioned by the Kyoto Symphony Orchestra, Kishida spent a year and a half composing Symphony No. 1. It was premiered in December 2016 at the Rohm Theater in Kyoto by the Kyoto Symphony Orchestra under the direction of Junichi Hirokami. A recording containing all the music from this concert was released on CD in 2017. Since 2016, Shigeru Kishida has taught at Kyoto Seika University and became a Specially-Appointed Professor in 2018.
http://www.quruli.net
http://www.shigerukishida.com
(as of 3 August 2018)